<!===================================================================================>
Note: For information on Baha'i, Islam, Judism, Shi'a, Sufism, Zoroasterism, ... visit PersianWeb
For Iranian Christian Links ( مسيحيان ايرانی) check the following;
Afghan Christian Fellowship - Washington D.C. area
Apostle of Love

Authenticity of the Bible - Can the Bible be trusted?

Azerbayjan Christian WebSite - Scripture, Video and more in Azeri Language
Azeri Ministries - Azerbaijani (Azeri) Christian Resources
Bible - A Summary from Adam to Jesus

Brasheet Music Ministry - Our City - Persian Christian Music

Christian Denominations - History and analysis of Christian denominations

Churches of Iran - A pictorial history and architectural review
Daniel in the Den of Lions

- by the order of King Darius
Divine Melody - Farsi Christian Music by Vida & Glen

ELAM - Eternal Life Agape Ministries
Esther Ministries - Hope of Women (Omide Banovan)

Farsi Injil - Gospels of Jesus Christ
Farsi Christian Network - Farsi Christian resource Center
Farsi Fellowship of Raleigh, North Carolina - Forest Hills Baptist Church of Raleigh
Gilaki Christian WebSite - Scripture, Video and more in Gilaki Language
God's Story An audio tape by San Diego Church
International Church of God - Atlanta, Georgia
Iranian Christian Broadcasting - Satellite TV for Farsi speaking people
Iranian Christian Churches - Worldwide Directory

Iranian Christian Church of Houston, Texas

Iranian Christian Church of San Diego, California

Iranian Christians International

Iranian Church on the Way (Nousazan) - Van Nuys, California
Iranian Church of Colorado - Denver Area
Iranian Church of Oklahoma City, Oklahoma - Life Spring Ministries
Iranian Church of Resurrection in Atlanta, Georgia

Iranian Church of Tulsa, Oklahoma - Life Spring Ministries
Iranian Javanan (Youth) Christian Church - San Jose, California
Iranian PresbyteRian Fellowship in Europe - Germany: Berlin, Aachen Hamm, Marburg
Kalameh Magazine - Iranian Christian Culture and Persian Christian Literature -

مجلة کلمه

Kalamekhoda - A collection of exerts from the Word of God

Khoda Neekoost - God is Good - Persian Christian Music

Nejat Music Productions

Parsee People - What if 3.5 million people were unreached for Christ?

Persian Spring eMagazine

Prayer Request Hotline - Do you need a prayer?
Psalms

- Psalms of David
Rev. Dibaj's defense & memoir in his own voice

Salib.org - Personal testimony and Christian articles
Shaban (Shepherd) Magazine - A Persian magazine for Iranian Ministers
Shohreh - Iranian Christian Worship Music


Songs From Heaven - by Rev. Irwin & Rev. Sepehr

Sohrab Books - Persian Christian Literature by Bishop Dehqani-Tafti
Steps To Pecae With God - Four Spiritual Laws by Billy Graham in Persian

TALIM Ministries - Teaching and Leadership Development among Iranian Ministries
Taslimat Shavan Khoda - Persian Christian Music from Church of Toronto

The English Language Church in Tehran - Ministering to Iran's expatriate community
The Toronto Iranian Christian Church - Toronto, Canada
Trinity - What is Trinity? What does it mean Jesus is Son of God?

Yaar: Songs to Worship Our God - Farsi Christian Music by Alice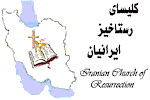 [an error occurred while processing this directive]<

<!==============================================================================>
---
Ethno - Religeous - Language Map of Iran
Depicting Ethnecity (Persian, Azeri, Kurd, Balooch, ...), Religion (Shi'a, Sunni)i
and to a degree the language spoken in various regions of present day Iran - known as Persian until 1934.