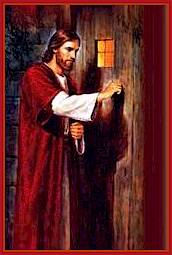 The artist shows Jesus standing at a door, knocking. This door represents our heart. There is no handle on the door, except on the inside.
Only you can let Jesus into your life.
Jesus does not force His way into your life. You are FREE to choose. God's Grace and mercy (Jesus) or God's judgement. Its your choice.
Revelation 3:20 (NIV) Here I am! I stand at the door and knock. If anyone hears my voice and opens the door, I will come in and eat with him, and he with me.