!Created by FarsiNet Inc. - 06/26/2004>
---
Injil - Good News - Gospel of Jesus Christ
---
" زيرا که محض فيض نجات يافته ايد، بوسيله ايمان و اين از شما نيست بلکه بخشش خداست، و نه از اعمال تا هيچ کس فخر نکند."


For it is by grace you have been saved, through faith--and this not from yourselves,
it is the gift of God, not by works, so that no one can boast. - Ephesians 2:8-9
---
Reload the page for more "Good News"
Iranian Christian Church of San Diego
Mission Valley Chapel
6964 Mission Gorge Road
San Diego, California 92120 USA
Pastor: Sohrab Ramtin (619) 583-8295 (619) 583-8285

صبح بخیر دوستان

سهراب رامتین
Sohrab Ramtin

> Links:
Do Your Good Deeds in Secret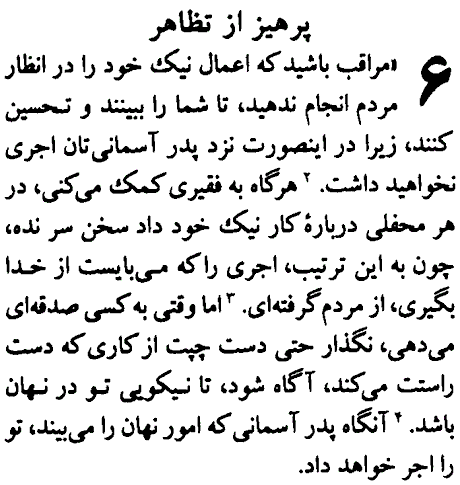 Matthew 6:1-4
Keep Your Good Deeds Secret
"Be careful not to do your 'acts of righteousness' before men, to be seen by them. If you do, you will have no reward from your Father in heaven. "So when you give to the needy, do not announce it with trumpets, as the hypocrites do in the synagogues and on the streets, to be honored by men. I tell you the truth, they have received their reward in full. But when you give to the needy, do not let your left hand know what your right hand is doing, so that your giving may be in secret. Then your Father, who sees what is done in secret, will reward you.
Read the entire Gospel of Matthew in English
Read the entire Gospel of Matthews in Persian

---
و ما را مامور فرمود که به قوم موعظه و شهادت دهيم بدين که خدا او را مقرر فرمود تا داور زندگان و مردگان باشد و جميع انبيا بر او شهادت می دهند که هر که به وی ايمان آورد، به اسم او آمرزش گناهان را خواهد يافت - اعمال رسولان فصل 10 آيات 42-43
He commanded us to preach to the people and to testify that he is the one whom God appointed as judge of the living and the dead. All the prophets testify about him that everyone who believes in him receives forgiveness of sins through his name." - Acts 10:42-43
---

Please send your questions and suggestions to webmaster@farsinet.com (062704 87652 )
| <!!--#include virtual="/cgi-bin/epoll_iranelection09.cgi"--> <!!--#include virtual="/cgi-bin/epoll_us_prez08.cgi"--> <!!--#include virtual="/cgi-bin/epoll_us_prez08_iranianvotes.cgi"--> <!!--#include virtual="/cgi-bin/epoll_mazhab.cgi"--> | <!!--#include virtual="/cgi-bin/epoll_news.cgi"--> <!!--#include virtual="/cgi-bin/epoll_irannuke.cgi"--> |
| --- | --- |