نوروزتان سرشار از برکت و معنویت باد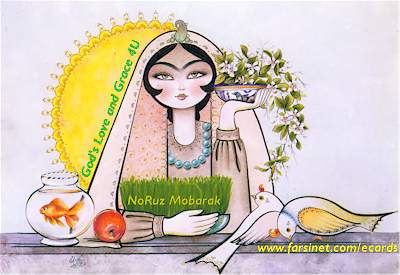 نوروز باستانی یادگار نیاکان ما خجسته باد
2500+ years of Tradition and Culture
با بهترین آرزوها و شاد باش ها

The other ancient symbolic representation of NoRuz is based around the idea of the triumph of good over evil. According to the Shah-nameh (The Book of Kings), the national Iranian epic by Ferdowsi, NoRuz came into being during the reign of the mythical King Jamshid; when he defeated the evil demons (divs) seizing their treasures, becoming master of everything but the heavens and bringing prosperity to his people. To reach the heavens, Jamshid ordered a throne to be built with the jewels he had captured. He then sat on the throne and commanded the demons to lift him up into the sky. When the sun's rays hit the throne, the sky was illuminated with a multitude of colours. The people were amazed at the King's power and they showered him with even more jewels and treasures. This day of great celebration was named NoRuz, and was recognised as the first day of the year.
<!!--#include virtual="prezbush_1382.html"-->
Chahar Shanbeh Suri
Last Wednesday of the year (Chahar Shanbeh Suri) : On the eve of last Wednesday of the year, literally the eve of Red Wednesday or the eve of celebration, bonfires are lit in public places with the help of fire and light, it is hoped for enlightenment and happiness throughout the coming year. People leap over the flames, shouting:
Give me your beautiful red color And take back my sickly pallor!

Chahar Shanbeh Suri


چهارشنبه‌ سوری




نوید دهندة نوروز و فرا رسیدن فصل بهار





With the help of fire and light symbols of good, we hope to see our way through this unlucky night - the end of the year- to the arrival of springs longer days. Traditionally, it is believed that the living were visited by the spirits of their ancestors on the last day of the year. Many people specially children, wrap themselves in shrouds symbolically reenacting the visits. By the light of the bonfire, they run through the streets banging on pots and pans with spoons called Gashog-Zani to beat out the last unlucky Wednesday of the year, while they knock on doors to ask for treats. Indeed, Halloween is a Celtic variation of this night.
In order to make wishes come true, it is customary to prepare special foods and distribute them on this night. Noodle Soup a filled Persian delight, and mixture of seven dried nuts and fruits, pistachios, roasted chic peas, almond, hazelnuts, figs, apricots, and raisins.
Fal-Gush
This is another ritual in which someone makes a wish and stands at the corner of an intersection , or on a terrace or behind a wall. That person will know his fortune when he overhears conversation of a passerby.
A ceremonial table called Sofreh-e Haft Seen (cloth of seven dishes), name of each dish beginning with the Persian letter Sinn.
Sizdeh Thirteen and Sizdeh Bedar is the process of getting over with or passing over the thirteenth day of the New Year.
| | |
| --- | --- |
| Hey Shiva, Do you think we'll ever find a husband? | Lisa jun, I am having hard enough time with my pre-kindergarten. |