The Tune of Nostalgia DVD is Released
Winner of San Francisco Film Festival
A Persian (Farsi) movie with English Subtitle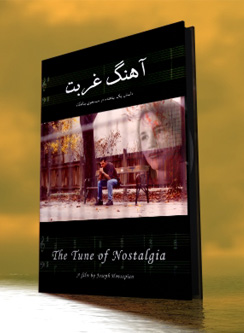 ---
"The Tune of Nostalgia" directed and produced by Joseph Hovsepian
a 105 minute feature film in Persian, with English sub-titles. The movie is based on
a true story of a Refugee, leaving his country, looking for a Refuge.
---
www.josephfilms.com ... P.O. Box 3601, Burbank, CA 91504


(818) 845-4091 ...

info@josephfilms.com
Mention "FarsiNet" when ordering to reciev special discount or Free shipping.
---
Every year thousands of refugees leave their country in hope of fulfilling their
dreams abroad. This film is the story of their shared experiences, their idealisms,
their realities and their cross confrontation with western culture.
Click below for Ordering Information


Film Trailers / Previews:

Following trailers are in windows Media Player format.
If you have a Low speed connection, fist download the file and then play it from your computer. (to Download: Right Click and select "Save as" )

DVD Promo/ 4 minutes
High Speed Low Speed

This video clip gives a quick preview of what you'll get on this DVD.



Copyright © 2003-2023 Joseph Hovsepian & FarsiNet Inc. (092203 94203 )
---