!Created by FarsiNet Inc. - 07/08/2001>
Persian Poetry and Poetic Art
---
Sa'adi

Sa'adi Shirazi who was born (circa 1213) and died (December 9, 1293) in Shiraz, Iran. His full name was Musharrif od-Din Muslih od-Din. He later derived his pseudonym from the name of the local prince, Sa'd ibn Zangi. When Sadi was a child, his father, Mosleh od-Din died. After completing his education at the Nezamiyeh College, he traveled through India and Central Asia. On his journey, he was captured by the Franks and made to labor on their stronghold in Tripoli. When he finally returned to his village he was an old man. He remained there until his death.

The first of Sadi's two principle works, The Bustan or The Tree Garden, published in 1257, is a philosophical and epic poem that expresses Muslim virtues.
His second work, The Golestan or The Rose Garden, published in 1258, is a collection of poems and prose that document his travels. The Golestan was
first translated in 1787 and is very popular among Western readers of poetry.

Sadi's work is often referred to for its description of the history of ancient Persia. He is recognized as the first Persian poet to employ the lyric to illustrate
the principles and the problems of love.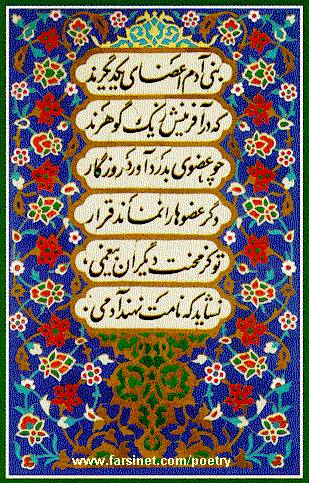 | | | |
| --- | --- | --- |
| All human beings are in truth akin; | | All in creation share one origin. |
| When fate allots a member pangs and pains, | | No ease for other members then remains. |
| If, unperturbed, another's grief canst scan, | | Thou are not worthy of the name of man. |
| | | Sa'adi |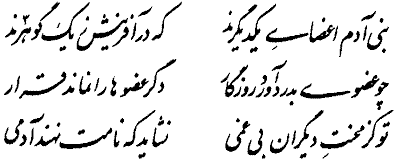 The Children of Adam are limbs of each other
Having been created of one essence.
When the calamity of time afflicts one limb
The other limbs cannot remain at rest.
If thou hast no sympathy for the troubles of others
Thou art unworthy to be called by the name of a man.
To be informed of updates to this page, Subscribe to FarsiNet Poetry Page.
---
---
Send your questions, suggestions and submissions for inclusion in this page to webmaster@farsinet.com
---

Copyright © 1995-2023 FarsiNet, Inc. All Rights Reserved. - (070801 169874 )
| <!!--#include virtual="/cgi-bin/epoll_iranelection09.cgi"--> <!!--#include virtual="/cgi-bin/epoll_us_prez08.cgi"--> <!!--#include virtual="/cgi-bin/epoll_us_prez08_iranianvotes.cgi"--> <!!--#include virtual="/cgi-bin/epoll_mazhab.cgi"--> | <!!--#include virtual="/cgi-bin/epoll_news.cgi"--> <!!--#include virtual="/cgi-bin/epoll_irannuke.cgi"--> |
| --- | --- |