!Created by FarsiNet Inc. - 03/01/1998>


What year is it? 2582? 1402? 1444? - How old is NowRuz? <!==================================================================> <!==================================================================>
Nowruz 2582 (1402, 2023) began on:

با شاد باش نوروز - تحويل سال نو




تحويل سال نو ۲۵۸۲ - ساعت ۰ و ۵۴ دقيقه و ۲۸ ثانيه صبح سه شنبه اول فروردين ۱۴۰۲ در ايران

Tehran:
Tuesday:
00:54:28 AM
March 21, 2023
Berlin
Monday
10:24:28 PM
March 20, 2023
Chicago:
Monday
04:24:28 PM
March 20, 2023
Dubai:
Tuesday
01:24:28 AM
March 21, 2023
London
Monday
09:24:28 PM
March 20, 2023
Los Angeles
Monday
02:24:28 PM
March 20, 2023
New York
Monday
05:24:28 PM
March 20, 2023
Sydney
Tuesday
08:24:28 AM
March 21, 2023
---
<!===============================================================>

---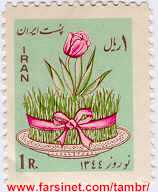 On the thirteenth day of the new year, which also marks the end of the Nowrooz break for the school children, families leave their houses and head for the outdoors where they eat, play games, and celebrate a happy and healthy holiday season.
This tradition is called Seezdah Bedar (seezdah means thirteen) which in English translates to "getting rid of thirteen". This fun and exciting outing involves all family members and is intended to end the holiday season on a relaxing and positive note. The concept of avoiding the number thirteen is mainly to symbolize the will and power to deal with all evil in the new year.
The two weeks long NoRooz celebration ends with SeezDeh Bedar. SeezDeh means Thirteen and SeezDeh Bedar is the process of getting over with or passing over the thirteenth day of the New Year. (Some believe 13 being an unlucky number)
This day is usually celebrated outdoor in a picnic style. This is the last day of New Year celebration and life will return to normal the following day. Schools will open, shops will start on their regular hours and offices and Government agencies are back in normal operation. So, this is the last chance to spend some time with family and friends and enjoy the fresh smell of Spring.
Sizdah-Bedar is also believed to be a special day to ask for rain. In ancient Iran, every day had its own name, and belonged to a different angel. The 13th of Farvardin belonged to the angel of rain. This angel is depicted as a horse. Sizdah-Bedar is also a day for competitive games. Games involving horses were often chosen as a victory of a horse represented , the angle of rain.
On this day, girls & boys tie a knot with grass and make wishes perhaps for a husband or wife. When the knot is opened (it is beleived that) their luck will open and their wishes will come true. Newly weds also tie a grass knot making wishes for a baby, a house, or whatever is on their Have-To-Have list.
Hey Shiva, Do you think we'll ever find a husband?
Lisa june, I am having hard enough time with my pre-kindergarten.
Another version of this tradition states that - on the 13th day of new year, in the hope of finding a husband, unmarried girls tie a knot with blades of grass and make a wish for a good husband before the next sizdeh-Bedar. The knotting of the grass represents the bondage of a man and a woman. These days, girls sing this song while knotting:
" Sizdah-Bedar sal-e deegar khooneh shoohar, bacheh baghal"
which translates to:
"Next Sizdah-Bedar, in my husband's home, holding a baby"!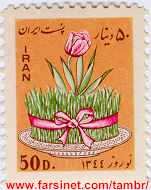 An interesting ritual performed at the end of the picnic day is to throw away the Sabzee from the Nowrooz Haft Seen table. The sabzee is supposed to have collected all the sickness, pain and ill fate hiding on the path of the family throughout the coming year! Touching someone else's sabzee on this thirteenth day or bringing it home is therefore not a good idea and may result in absorbing their pain and hardship.
---
Go To ... [ History of NowRuz | Chahar Shambeh Suri 1 | Chahar Shambeh Suri 2 | Chahar Shambeh Suri 3 | HaftSinn 1 | HaftSinn 2 | HaftSinn 3 | HaftSinn 4 | HaftSinn 5 | Haji Firuz 1 | Haji Firuz 2 | Haji Firuz 3 | Sizdeh Bedar 1 | Sizdeh Bedar 2 | Poetry | Send NoRuz Greeting | Previous year Sal Tahvils ... | US Gov. NowRuz message ... | eCard 2563 | eCard 2564 | eCard 2565 | eCard 2566 | eCard 2567 | eCard 2568 | eCard 2569 | eCard 2570 ... | Sadeh | Yalda | NoRuz or NowRuz? | How old is NowRuz? |

]
---
NoRuz Greetings: NoRuz Mobarak (Happy NoRuz, Happy New Year), Eid-eh Shoma Mobarak (Happy New Year to you), NoRuz PiRuz (Wishing you a Prosperous New Year), Sad Saal be in Saal-ha (Wishing you 100 more Happy New Years)
---
Copyright © 1997 - 2023; FarsiNet - All Rights Reserved. - (032001 177478 )
| <!!--#include virtual="/cgi-bin/epoll_iranelection09.cgi"--> <!!--#include virtual="/cgi-bin/epoll_us_prez08.cgi"--> <!!--#include virtual="/cgi-bin/epoll_us_prez08_iranianvotes.cgi"--> <!!--#include virtual="/cgi-bin/epoll_mazhab.cgi"--> | <!!--#include virtual="/cgi-bin/epoll_news.cgi"--> <!!--#include virtual="/cgi-bin/epoll_irannuke.cgi"--> |
| --- | --- |