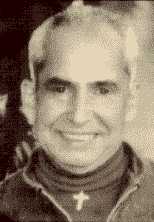 "In the Holy Name of God who is our life and existence"
With all humility I express my gratitude to the Judge of all heaven and earth for this precious opportunity, and with brokenness I wait upon the Lord to deliver me from this court trial according to His promises. I also beg the honored members of the court who are present to listen with patience to my defense and with respect for the Name of the Lord.
I am a Christian. As a sinner I believe Jesus has died for my sins on the cross and by His resurrection and victory over death, has made me righteous in the presence of the Holy God. The true God speaks about this fact in His Holy Word, the Gospel (Injil). Jesus means Savior "because He will save His people from their sins." Jesus paid the penalty of our sins by His own blood and gave us a new life so that we can live for the glory of God by the help of the Holy Spirit and be like a dam against corruption, be a channel of blessing and healing, and be protected by the love of God.
In response to this kindness, He has asked me to deny myself and be His fully surrendered follower, and not to fear people even if they kill my body, but rather rely on the creator of life who has crowned me with the crown of mercy and compassion. He is the great protector of His beloved ones as well as their great reward.
I have been charged with "apostasy!" The invisible God who knows our hearts has given assurance to us, as Christians, that we are not among the apostates who will perish but among the believers who will have eternal life. In Islamic Law (Sharia'), an apostate is one who does not believe in God, the prophets or the resurrection of the dead, We Christians believe in all three!
They say "You were a Muslim and you have become a Christian." This is not so. For many years I had no religion. After searching and studying I accepted God's call and believed in the Lord Jesus Christ in order to receive eternal life. People choose their religion but a Christian is chosen by Christ. He says, "You have not chosen me but I have chosen you." Since when did He choose me? He chose me before the foundation of the world. People say, "You were a Muslim from your birth." God says, "You were a Christian from the beginning." He states that He chose us thousands of years ago, even before the creation of the universe, so that through the sacrifice of Jesus Christ we may be His. A Christian means one who belongs to Jesus Christ.
The eternal God who sees the end from the beginning and who has chosen me to belong to Him, knew from the beginning those whose heart would be drawn to Him and also those who would be willing to sell their faith and eternity for a pot of porridge. I would rather have the whole world against me, but know that the Almighty God is with me. I would rather be called an apostate, but know that I have the approval of the God of glory, because man looks at the outward appearance but God looks at the heart. For Him who is God for all eternity nothing is impossible. All power in heaven and on earth is in His hands.
The Almighty God will raise up anyone He chooses and bring down others, accept some and reject others, send some to heaven and other to hell. Now because God does whatever He desires, who can separate us from the love of God? Or who can destroy the relationship between the creator and the creature or defeat a life that is faithful to his Lord? The faithful will be safe and secure under the shadow of the Almighty! Our refuge is the mercy seat of God who is exalted from the beginning. I know in whom I have believed, and He is able to guard what I have entrusted to Him to the end until I reach the Kingdom of God, the place where the righteous shine like the sun, but where the evil doers will receive their punishment in the fire of hell.
They tell me, "Return!" But to whom can I return from the arms of my God? Is it right to accept what people are saying instead of obeying the Word of God? It is now 45 years that I am walking with the God of miracles, and His kindness upon me is like a shadow and I owe Him much for His fatherly love and concern.
The love of Jesus has filled all my being and I feel the warmth of His love in every part of my body. God, who is my glory and honor and protector, has put his seal of approval upon me through His unsparing blessings and miracles.
This test of faith is a clear example. The good and kind God reproves and punishes all those whom He loves. He tests them in preparation for heaven. The God of Daniel, who protected his friends in the fiery furnace, has protected me for nine years in prison. And all the bad happenings have turned out for our good and gain, so much so that I am filled to overflowing with joy and thankfulness.
The God of Job has tested my faith and commitment in order to increase my patience and faithfulness. During these nine years he has freed me from all my responsibilities so that under the protection of His blessed Name, I would spend my time in prayer and study of His Word, with a searching heart and with brokenness, and grow in the knowledge of my Lord. I praise the lord for this unique opportunity. God gave me space in my confinement, brought healing in my difficult hardships and His kindness revived me. Oh what great blessings God has in store for those who fear Him!
They object to my evangelizing. But if one finds a blind person who is about to fall in a well and keeps silent then one has sinned. It is our religious duty, as long as the door of God's mercy is open, to convince evil doers to turn from their sinful ways and find refuge in Him in order to be saved from the wrath of the Righteous God and from the coming dreadful punishment.
Jesus Christ says "I am the door. Whoever enters through me will be saved." "I am the way, the truth and the life. No-one comes to the father except through me." "Salvation is found in no-one else, for there is no other name under heaven given to men by which we must be saved." Among the prophets of God, only Jesus Christ rose from the dead, and He is our living intercessor for ever.
He is our Savior and He is the (spiritual) Son of God. To know Him means to know eternal life. I, a useless sinner, have believed in this beloved person and all His words and miracles recorded in the Gospel, and I have committed my life into His hands. Life for me is an opportunity to serve Him, and death is a better opportunity to be with Christ. Therefore I am not only satisfied to be in prison for the honor of His Holy Name, but am ready to give my life for the sake of Jesus, my Lord, and enter His kingdom sooner, the place where the elect of God enter everlasting life. But the wicked enter into eternal damnation.
May the shadow of God's kindness and His hand of blessing and healing be and remain upon you for ever. Amen. With Respect,
Your Christian prisoner,
Mehdi Dibaj
---
"I have always envied those Christians who were martyred for Christ Jesus our Lord. What a privilege to live for our Lord and to die for Him as well. I am filled to overflowing with joy; I am not only satisfied to be in prison. . .but am ready to give my life for the sake of Jesus Christ." - Mehdi Dibaj
Note:
Rev. Mehdi Dibaj who was born into a Muslim family became a Christian 45 Years ago. On December 21, 1993 an Islamic court in the city of Sari condemned him to die. The conviction was based on the charge of apostasy, i.e. that Rev. Dibaj had abandoned Islam and embraced Christianity. Once the news of Rev. Dibaj's death sentence reached the rest of the world, the reaction was one of disbelief followed by prayer and action. One of the persons who worked very hard to overturn Rev. Dibaj's sentence was Bishop Haik Hovsepian-Mehr. Bishop Haik, an Armenian pastor, shared the news of Rev. Dibaj's death sentence as well as other violations of religious freedom of Christians in Iran with the world. Due to the world's reaction, Rev. Dibaj was released on January 16, 1994.
Five months after the release from prison, Rev. Mehdi Dibadj was abducted mysteriously and suffered martyrdom in June, 1994.
---
"Others were tortured and refused to be released, so that they might gain a better resurrection... they were stoned; they were sawn in two; they were put to death by the sword... the world was not worthy of them." -- Hebrews 11: 37-38.
---
Bishop Haik disappeared from the streets of Tehran on January 19, 1994. The authorities reported his death to his family on January 30. Haik was a man of God who believed in the God-given right of a person to believe according to his conscience. He loved the people of Iran whether Christian or Muslim. For their religious freedom, he gave his life.
Bishop Haik Hovsepian-Mehr did not believe in succumbing to government pressure and chose instead to "tell the world" about the plight of Iranian Christians. He said: "If we go to jail or die for our faith, we want the whole Christian world to know what is happening to their brothers and sisters."
Are you ready to die for Christ? (An article by Campus Journal)

Okay, these aren't exactly the early morning or late evening soothing words you were looking for--but they're too important to soften.

In 1994, some 156,000 Christians died for their faith, according to researcher David Barrett, professor of missiometrics at Regent University. That number seems huge, but Barrett states that "one in every 200 Christians can expect to be martyred in his or her lifetime."

Mehdi Dibaj was one of those people. He had been born into a mega-rich Muslim family in Iran. As a teenager, he asked Christ to be his Savior after reading a tract. Later he attended seminary and became a missionary in Iran.

In 1979 he was put in jail for 68 days because of his beliefs. In 1984 he was arrested again. While in jail he experienced stuff like solitary confinement (for 2 solid years!), mock executions, and regular beatings.

What's more, in 1988 his wife divorced him and went back to being a Muslim after being threatened with death by stoning. Church and family members took custody of his four children.

Yet, a few years later while still in prison, Mehdi wrote these words to his son: "What a privilege to live for our Lord and to die for Him as well."

In 1994, he finally gained release from prison. For the next 6 months he traveled around Iran encouraging fellow believers. Then he was murdered.

He died for Christ. Life was not as important as the love and hope he had found for eternity.

The apostle Paul said that we should be firm in our faith and boldly proclaim Christ "without being frightened in any way by those who oppose you" (Philippians 1:28). He knew that people can harm us physically, but they can never take away our salvation.

If your faith in Christ isn't something you would be willing to die for, check your pulse.

You may be spiritually dead already. --TF
Martyred & Imprisoned Christian Leaders in Iran
2016 - September - Iranian Converts face flogging for taking communion
2015 - December 19 - A number of house Church leaders and members in Isfahan are harassed and brought to Security and Information Office for questioning
2014 - November - Shiraz - Iranian house Church leader arrested, interrogated and his whereabouts unknown
2014 - March 21 - UN reports at least 49 Christians being held in Iranians jails as of January 2014"
2014 - March 5 - 8 Iranian Christians were rounded up during a social picnic, blind folded, interrogated by armed security agents
2013 - October 21 - Pastor Eddie Romero - Tonight, at about 10:30PM (9:00AM Tehran time) Pastor Eddie Romero approached the notorious Evin Prison in Tehran and made a declaration of protest on behalf of five Iranian prisoners: Farshid Fathi, Saeed Abedini, Mostafa Bordbar, Alireza Seyyedian, and Mohammed Ali Dadkhah. For more information go to: exodus8one.org
2013 - October 5 - Maryam Naghash-Zargaran - Maryam (aka Nasim) an Iranian Christian Prisoner in Evin Prison was Transferred to Hospital
2013 - April 11 - Pastor Saeed Abedini - Sentenced to 8 years in Prison in January 2013 - Send msg & sign Petition
2013 - January 6 - Maryam Zargaran - an Iranian Christian Arrested for the crime of National Security for following Jesus Christ
2012 - October 12 - Pastor Behnam irani and 7 members of Church of Shiraz arrested
2012 - September 8 - Iran: Pastor Nadarkhani Released, Acquitted Of Apostasy
2012 - February 22 - Iranian Authorities Order Death Warrant for Pastor Nadarkhani
2012 - February 22 - Christians in Isfahan face increasing pressure and arrests - 78 year old Giti Hakimpour arrested
2012 - January - The Governor General of Tehran Province, Morteza Tamadon, acknowledged in a statement on 4th January that a number of evangelical Christians had been arrested. He referred to their 'corrupting' influence and warned that further arrests are imminent.
2011 - December - Alireza Seyyedian - Alireza a Follower of Jesus since 2006, was arrested and sentenced to six years in December 2011. He is kept in the section 350 of Evin Prison where political prisoners are held.
2011 - December - 60+ Iranian Christians arrested on the eve of Christmas
2011 - September - Mehdi "Petros" Foroutan, a 27-year-old pastor in Iran, was arrested in January 2010 and charged with crimes against national security and blasphemy against Islam. (as of 2/24/2012 - 154 days in Prison)
2011 - May - Behnam Irani, a 41-year-old pastor from Kraj, Iran, was convicted of crimes against national security in January 2011 and sentenced to one year in prison. After voluntarily surrendering to authorities on May 31 to begin his sentence, he learned that he would be forced to serve five years in connection with a previous conviction.
2011 - Rev. Behrooz Khanjani trial hearing on 4/5/2001, He is married with a 6 yo child and has already spent over 8 months in prison
2011 - Rev. Leonard Keshishian, the pastor of the Assemblies of God Church in Isfahan has been arrested
2010 - December 26 - Farshid Fathi - was arrested on Dec. 26, 2010 in a wave of arrests of believers in Tehran and other areas. He was sentenced to six years of imprisonment on March 5, 2012. Farshid's appeal against the charges was rejected in June 2012. He is due to serve the rest of his sentence in Evin Prison.
2010 - Over 70 Iranian Christians were arrested during Christmas Holidays. The Governor of Tehran has vowed to arrest more evangelical Christians.
2010 - Pastor Behrouz Sadegh-Khandjani - Gilan, Iran - arrested & imprisioned for the crime of Apostasy
2010 - October - a young believer has died in Iran after he had been severely beaten by a relative who objected to his strong faith in Christ. He leaves behind a wife and two young children. (Reported by Elam)
2010 - September 23, Nine followers of Jesus were detained in Hamedan, the capital of Hamadan province, on charges of evangelism, which potentially carries the death penalty under strict laws in Iran.
- According to a report by FCNN (Farsi Christian News Network), 4 followers of Jesus Christ from Hamadan were arrested on September 4, 2010. Three of them were released on April 30, 2011, after 8 months in prison (Arezoo Teymouri & her husband Arash Karmanjai and Sonia Keshish Ovanesian). Vahid Abrahemian is still under arrest as of April 30, 2011.
2010 - July 24 at 9:00 p.m., 27-year-old Neshan Saeedi was spending a quiet evening at home with his wife and young daughter when plain-clothes security forces entered his house and arrested him. The security officers searched the home and seized personal belongings such as a computer, CDs containing films of Christian seminars and teachings, Christian books and Bibles, and family photo albums. As of September 09, 2010 - there is no information about the condition of Neshan.
2010 - July 18, 15 Christians detained in Mashhad,Iran's second largest city, remain detained and are "under pressure pressure to recant their faith but are refusing to do so." - (Reported by The Voice of the Martyrs)
2010 - April 29, Ali Golchin (29), has been held in solitary confinement in Tehran's Evin prison since he was arrested in his home town of Varamin on April 29. After weeks of appealing to the authorities, Ali's father was finally allowed access to him on June 17 -- though they were allowed only 10 minutes together. Ali was released on bail on July 25.
2009 - December 7, Home Church Leaders Davood Irani & Wife arrested in Shiraz
2009 - Maryam Rostampour and Marziyeh Amirizadeh - Arrested for passing out Bibles and talking about Jesus in Tehran
2009 - October, Pastor Behrouz Sadegh-Khandjani - Held in prison in Shiraz, Iran - has been given limited contact with his family and his attorney.

2008 - Sakineh Rahnama), August 3, wife of Abbas Amiri, died from injuries sustained when secret police raided a house church service hosted at their house and severly beat her.
2008 - Abbas Amiri), August 1, House Church Isfahan, died from injuries sustained when secret police raided a house church service hosted at their house and severly beat him.
2007 - On April 18 2007 three members of Malatya Church in Turkey were murdered; Pastor Necati Aydin, Tilmann Geske & Ugur Yuksel. The first martyrs of the modern Turkish Church.
2007 - In June, a number of Iranian Christians have been arrested and are held in unknown places, including Mr. fard from Tehran.
2007 - Mohammad Ali Jafarzadeh, May 2007, Executed (hanged) in Evin Prison
2007 - Mohammad Jaberi, May 2007, Executed (hanged) in Evin Prison
2007 - Mr. Patrick, an Iranian Christian and a member of Church of Kermanshah was arrested in May.
2007 - Several Iranian Christians from Church of Mashhad were arrested in February.
2006 - 14 Iranian Christians from Church of Rasht were arrested in December.
2006 - Iranian secret police began to raid and arrest leaders of the Islamic republic's indigenous "Jesus Only" movement Sunday December 10, arriving unannounced in the early morning hours to search their homes in Tehran, Karaj, Rasht and Bandar-i Anzali.
2005 - Pastor Ghorbandordi Tourani - Iranian House Church Leader murdered near his house in Gonbad-e Kavous, November 22
2004 - Pastor Hamid Pourmand - arrested ... sentenced to 3 years in prison ... charged with apostasy ... acquitted of apostasy ...
1996 - Rev. Bagher Yusefi, Murdered Sept. 28 1996, Assembly of God Church of Amirkola, Mazanderan
1994 - Rev. Tateos Mikaelian, June 29 1994, Presbyterian Church of Tehran
1994 - Rev. Mehdi Dibaj, Hanged from a tree June 1994, Assembly of God Church of Tehran
1994 - Bishop Haik Hovsepian, Mudered January 1994, Assembly of God Church of Tehran
1990 - Rev. Hossein Soodmand, Executed December 1990, Assembly of God Church of Mashhad
1988 - Rev. Manuchehr Afghani, Presbyterian Church of Tehran
1980 - Bahram Deghani-Tafti, Murdered May 1980, Church of Isfahan, Son of an Anglican Bishop Hassan Dehqani-Tafti
1979 - Rev. Arastoo Sayyah - Murdered February 1979 - Angelican Church of Shiraz
Iranian Muslims Turn to Christ Despite Threat, Persecution!
Other Related WebSites
---