سور در مفهوم پارسی یعنی رنگ سرخ و آتشین می باشد و جشن سوری جشن آتش می باشد، البته سور به مفهوم مهمانی نیز به کار رفته است.
The night before the last Wednesday of the year is celebrated by the Iranian people as Chahbrshanbe Suri, meaning red wednesday, the Iranian festival of fire. This festival is the celebration of the light (the good) winning over the darkness (the bad); the symbolism behind the rituals are all rooted back to Zoroastrian times, over 2500 years ago.
The Festival of "Chaharshanbeh Suri" is Persian and celebrated by Persians for over 2500 years. It is not an Islamic tradition nor is it celebrated by any of the Arab tribes or people group. Charshanbeh Suri is neither a religeous ceremony nor a political one, it is a celebration of ending a dark and cold season - "Winter" and starting a new brighter and more hopeful one - "Spring".
جشن چهارشنبه سوری هیچگونه ارتباطی به جشن ها و مراسم فرهنگی عربها ندارد و هیچیک از قبایل کنونی آنها این سنت را اجرا نمی کنند. این مراسم به هیچ دین و مذهبی وابسته نیست. این مراسم آریائی و پارسی می باشد.
The tradition includes people going into the streets and alleys to make bonfires, and jump over them while singing the traditional song Zardn-ye man az to, sorkhn-ye to az man (literally: "My yellowness for you, your redness for me; ", but figuratively: My paleness (pain, sickness) for you (the fire), your strength (health) for me.
جشن چهارشنبه سوری که در پایان زمستان برگذار می شود و نوید نوروز را می دهد در آن برپایی آتش و پریدن از روی آن به گونه ای زدودن پژمردگی، سرما و بیماری از تن و روان نیز می باشد. در ایران باستان، دانش برافروختن آتش و استفاده از آن در رزم یکی از حربه های سربازان پارسی بوده است که در جنگ ها از آن بهره می جستند و پارسیان پیروزی بر آتش را نشانة حقانیت و نیرومندی می انگاشتند چنانکه فردوسی می گوید :
| | |
| --- | --- |
| سیاوش سیه را به تندی بتاخت | نشد تنگدل جنگ آتش بساخت |
| ز هر سو زبانه همی برکشید | کسی خود و اسب سیاوش ندید |
سرودن و زمزمة " سرخی تو از من و زردی من از تو " در حین پریدن از روی آتش بیانگر سپاس از آتش می باشد. سرخ گونگی علامت سلامت و زردگونگی نشانة بیماری نزد انسان می باشد. سپاس از آتش که گرما، سرخ گونگی و سلامت را هدیه داده است و زردگونگی و بیماری را دور ساخته است در جشن چهارشنبه سوری صورت می گیرد.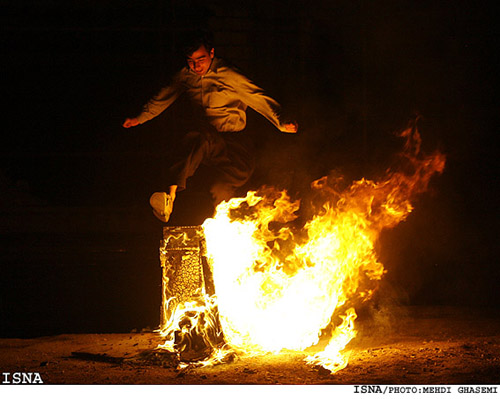 Give me your beautiful red color
And take back my sickly pallor!

سرخی

تو از من و
زردی من از تو
Serving different kinds of pastry and nuts known as Ajīl-e Moshkel-Goshā (lit. The problem-solving nuts) is the Chahārshanbe Sūrī way of giving thanks for the previous year's health and happiness, while exchanging any remaining paleness and evil for the warmth and vibrancy of the fire.

According to tradition, the living are visited by the spirit of their ancestors on the last days of the year, and many children wrap themselves in shrouds, symbolically re-enacting the visits. They also run through the streets banging on pots and pans with spoons and knocking on doors to ask for treats. The ritual is called qashogh-zany (spoon beating) and symbolizes the beating out of the last unlucky Wednesday of the year.

There are also several other traditions on this night, including the rituals of Kūze Shekastan, the breaking of earthen jars which symbolically hold ones bad fortune; the ritual of Fal-G{sh, or inferring one's future from the conversations of those passing by; and the ritual of Gereh-goshāī, making a knot in the corner of a handkerchief or garment and asking the first passerby to unravel it in order to remove ones misfortune.

<!object classid="clsid:D27CDB6E-AE6D-11cf-96B8-444553540000" width="550" height="280" codebase="http://download.macromedia.com/pub/shockwave/cabs/flash/swflash.cab#version=4,0,2,0"> <!embed src="http://www.persiancards.com/images/ecard/151.swf" quality=high pluginspage="http://www.macromedia.com/shockwave/download/index.cgi?P1_Prod_Version=ShockwaveFlash" type="application/x-shockwave-flash" width="550" height="300">

[an error occurred while processing this directive]