!Created by FarsiNet Inc. - 12/20/1999>
---
---
Merry Christmas

Merry Christmas and Happy New Year 2023 to You and Your family:
May this Christmas be a special Blessing for you and your family. May God reveal Himself to you in a mighty way in the coming year. May you and your loved ones all have the opportunity to develop and strengthen your own personal relationships with God, to enjoy the daily fellowship and guidance of the Holy Spirit and to experience the perfect and unconditional Love of the Prince of Peace and Savior of the World, Jesus Christ.

May the Lord protect and bless you and your family in 2023 and to continue to increase your territory in His kingdom in 2023 and beyond. May His wisdom light your path and His Love & Grace energize your body, heart and mind.

Our Prayers and best wishes for you and your loved ones for a blessed and merry Christmas and a Happy New Year 2023 blessed with God's Love, Grace and daily prsence, as well as Good Health, Peace, Love, Joy, and Plenty of Opportunities to serve in His Kingdom. - Remember, Jesus IS THE REASON for the Season. - FarsiNet Team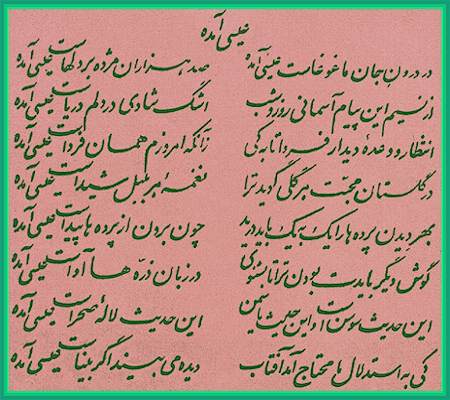 (Click above to view the entire Persian Poetry about the Coming of your Mesiah)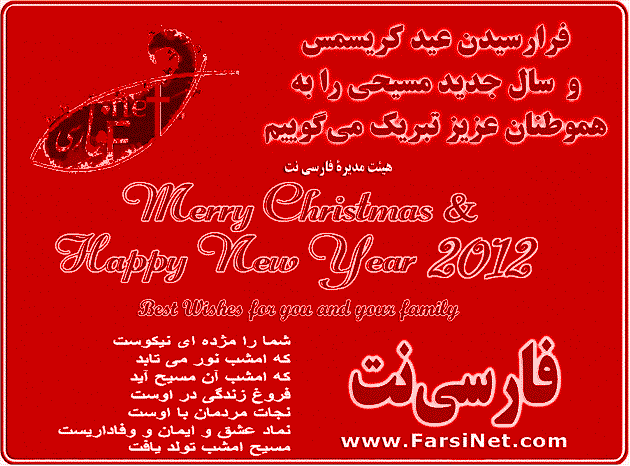 "I bring you good tidings of great joy, which shall be to all people.","Luke 2:10
---
| Home | Jesus Birth Foretold 1 | Jesus Birth Foretold 2 | Jesus Birth Foretold 3 | Jesus Birth Foretold 4 | Who Is Jesus? | Bethlehem (Jesus Birth Place) | Church of Nativity (History) | Church of Nativity (Pictures) | Christmas - Birth of a Spiritual King | Merry Christmas | Christmas Prayer | Wisemen | Easter | Holy Spirit ... | Persian Poetry ( Messiah Has Come, Liberated Love, Holy Spirit, Eisa King & Saviour ) ... Tavalod Yaaft - Mesiah Is Born!

---

Please send your comments and prayer requests to info@farsinet.com - Copyright 2001 - 2023 (122001 68566 )
| <!!--#include virtual="/cgi-bin/epoll_iranelection09.cgi"--> <!!--#include virtual="/cgi-bin/epoll_us_prez08.cgi"--> <!!--#include virtual="/cgi-bin/epoll_us_prez08_iranianvotes.cgi"--> <!!--#include virtual="/cgi-bin/epoll_mazhab.cgi"--> | <!!--#include virtual="/cgi-bin/epoll_news.cgi"--> <!!--#include virtual="/cgi-bin/epoll_irannuke.cgi"--> |
| --- | --- |