Persian
Carpet
---
History
---
Regional Designs
---
Persian Rug FAQ
---
a href="http://www.bbc.com/culture/story/20171206-the-timeless-appeal-of-the-persian-rug">Timeless Appeal
---
---

---
Rug Care Products
---
Persian Rug Dealers
Amir's Persian Rugs
---
Bijan Persian Rugs
---
Kazempour Persian Rugs
---
Parvizian & Sons
---

Auction

ebay Auction
;
---
Baluch Persian Rug - 1960s - 68"x50"
A Pictorial Depiction Khayyam's Poetry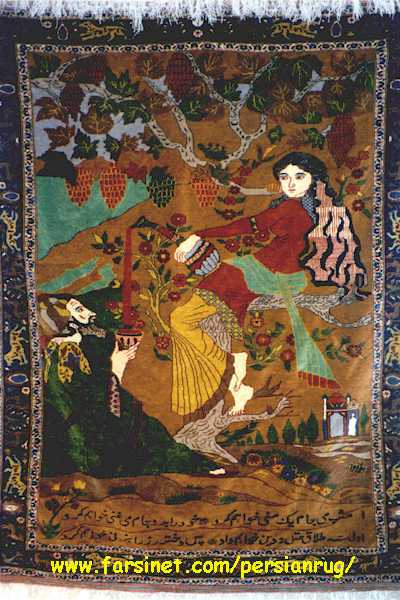 Baluch Persian Rugs
Baluch rugs are tribal hand-woven rugs made in the southern part of Iran by nomadic Baluch tribes. The majority of Baluch rugs are woven in the province Sistan-Baluchistan, which sits on the extreme Southeast boundaries of Iran. A lot of Baluch rugs also come out of Iran's vast province of Khorassan which is just to the north.

The Baluch people are very kind and simple and weave these rugs mainly to express themselves and follow an ancient Persian tradition, which dates back thousands of years. Colors of Baluch rugs are usually predominantly a rich burgundy with some very dark navy blue and accents of ivory. They frequently have either an overall pattern, or a prayer rug design. Any Baluch Persian rug is one of a kind and has absolutely no duplicates anywhere in the world.

Baluch is the title of several tribes, a small number of which live in the Republic of Turkmenistan. The Baluchis speak Baluchi, which is a West Iranian language of the Indo-European family of languages that has been influenced by the eastern Iranian dialects. It has two branches of northern (Sorhadi) and southern (Makrani) Baluchis. The Iranian Baluch tribes are divided into a number of clans. The most important are the Bameri, Balideh, Bozorgzadeh, Riggi, Sardaar Zaie, Shahbakhsh, Lashari, Mobaraki, Mir Morad Zaie, Naroyee, Nooshsiravani, Barohooyee, Baram-Zehi, and Shir-Khanzayee tribes. The Iranian Baluchis are mostly of the Hanafi sect of the Sunni faith.

A few tribes in the Sistan area are also regarded as Baluch, but they speak Sistani. The language is an abandoned dialect of Persian. The notable ones of these tribes are: Sarbandi, Shahraki, Sargazi, Zamir-Farsyoon, Mir-Arab and Sanjarani."

Visibility: The most dominant feature of BALUCH carpets is a pattern formed by the repetition of highly stylized camel's foot- or pear-shaped medallions surrounded on all sides by geometric borders. The result is a very geometric and intricate design that borrows largely from TURKMEN style, especially in the use of the "gul" motif.

Quality:BALUCH rugs are of excellent quality. They last for many years.

Size & Shapes:BALUCH rugs are usually small (2 x 3 to 4 x 6 feet). Larger sizes exist, but are hard to find. Finished rugs are nearly square.

Color: Dark red or blue contrasted with splashes of white, yellow and orange. Powerful blues predominate, with ivory as a contrasting color.

Texture:Soft wool, thin, tight pile.

Foundation:The majority of BALUCH rugs comes from two areas:
The Taimani Tribe in Afghanistan
The Baluch Tribes from IRAN
BALUCH rugs from IRAN have white cotton or grey wool foundations. Goat hair is also a common warp material in many BALUCH rugs. BALUCH rugs are made of soft wool, are loosely woven, and are colored with corrosive black/brown dyes.

Knots:BALUCH weavers use almost exclusively the asymmetrical Persian knot. Knots tend to be small and tightly packed down.

Price: BALUCH rugs are in great demand. Expect to pay $5-$19 Per Square Foot (PSF) for a carpet from BALUCHESTAN.
---
Other Info; | The Timeless Appeal of the Persian Rug | Persian Rug Designs | The Future of Persian Carpet | The Largest Persian Carpet In the World | Persian Rug Portraits |
Samples; | Baluch (Saghi) | Isfahan (Saghi) | Mashhad | Kashan Silk (Yahuddi) | Rug Market | Repairing Rug | 1 | 2 | 4 | 5 | 6 | 7 |
---

Please send your Questions, comments, or suggestions to s persianrug@farsinet.com.
Copyright © 1998-2023 FarsiNet, Inc. All Rights Reserved. (031099 88996 )
| <!!--#include virtual="/cgi-bin/epoll_iranelection09.cgi"--> <!!--#include virtual="/cgi-bin/epoll_us_prez08.cgi"--> <!!--#include virtual="/cgi-bin/epoll_us_prez08_iranianvotes.cgi"--> <!!--#include virtual="/cgi-bin/epoll_mazhab.cgi"--> | <!!--#include virtual="/cgi-bin/epoll_news.cgi"--> <!!--#include virtual="/cgi-bin/epoll_irannuke.cgi"--> |
| --- | --- |