"Where is My Vote?" - Iranian people Freedom Uprising!
---
03/28/2011 - Monday - Washington - Special Report Amnesty: Iran has most executions
WASHINGTON, March 28 (UPI) -- Iran leads the way in the "worrying upsurge" in the number of executions in the Middle East and Asia, Amnesty International claims. The United Nations last week voted to appoint a special human rights envoy to monitor the situation in Iran. Amnesty International said Iran carried out 252 executions in 2010, compared with 18 in Libya.
"Iran, Libya and Yemen experienced a worrying upsurge in executions . and there are fears of mass executions in Libya as the (current) conflict there deepens," the watchdog group added. U.S. Ambassador Eileen Donahoe in a statement last week said Washington was "gravely concerned" about deteriorating human rights conditions in Iran. She said the situation in Iran since September "had worsened" amid reports of "acts of torture carried out by the government of the Islamic republic of Iran and death sentences of men and women by stoning." Amnesty International said in many countries, executions are carried out following "unfair" trials and for relatively minor offenses like drug-trafficking or adultery. The watchdog group said more than 30 countries moved against capital punishment during the past 10 years, though Iran, Yemen, Saudi Arabia, the United States and China carried out the most executions, often "in direct contradiction of international human rights law."
---
03/15/2011 - Wednesday - Tehran - Spanish TV Reporter - Ahmadi Nejad: We have never Crushed the Opposition
ایران پس از انتخابات
احمدی نژاد: هرگز مخالفان را سرکوب نکرده‌ایم
محمود احمدی نژاد، رئیس جمهوری ایران در مصاحبه با تلویزیون دولتی اسپانیا گفت که حکومت ایران هرگز مخالفان سیاسی را سرکوب نکرده است و او خود هفته ای چهار ساعت در خیابان ها با مردم گفت و گو می کند.
به گزارش خبرگزاری فرانسه، آقای احمدی نژاد روز سه شنبه ۲۴ اسفند (۱۵ مارس) در پاسخ به سئوال خبرنگار تلویزیون اسپانیا در مورد "سرکوب معترضان" در ایران گفت: "هرگز، هرگز. ما هیچ وقت این کار را نکرده ایم. در سی سال گذشته سی انتخابات آزاد داشته ایم".
او در پاسخ به سئوال دیگری در مورد بی خبری از وضعیت میرحسین موسوی و مهدی کروبی، دو رهبر مخالفان دولت گفت: "مگر شما باید بدانید؟ مگر شما وکیل مدافع آنها هستید"؟
آقای احمدی نژاد گفت که در همه کشورها مخالف وجود دارد، اما قانون هم وجود دارد و مخالفان نمی توانند قانون شکنی کنند.
او خطاب به خبرنگار اسپانیایی گفت: "آیا شما در اسپانیا به مخالفان و تجزیه طلب ها اجازه می دهید که ساختمان های دولتی و اموال عمومی را آتش بزنند یا مردم را در خیابان ها کتک بزنند"؟
رئیس جمهوری ایران پرسید: "اگر در کشور شما عده ای به نام مخالف به خیابان آمدند و شکم مردم را با چاقو پاره کردند، پلیس چه می کند"؟
او این سئوال خبرنگار اسپانیایی را که "آیا همه مخالفان در ایران چنین کارهایی کرده اند" بی پاسخ گذاشت و به سخنان خود ادامه داد؛ اما خبرنگار دوباره پرسید: "آیا این دو رهبری که من اسم بردم ساختمان آتش زده اند"؟
آقای احمدی نژاد گفت که آنها قانون را نقض کرده اند و با آنها برخورد قانونی شده است.
آقایان کروبی و موسوی به همراه همسران خود از روز ۲۵ بهمن در حصر خانگی به سر می برند و در این مدت خبرهای ضد و نقیضی از انتقال آنها به مکانی نامعلوم منتشر شده است.
آقای احمدی نژاد در ادامه مصاحبه با تلویزیون اسپانیا گفت: "بگذارید خیالتان را راحت کنم. این بازی ای که اروپایی ها و آمریکایی ها علیه دولت های مستقل راه انداخته اند که عده ای را به نام دموکراسی علیه آنها تحریک کنند، به پایان رسیده است".
آقای احمدی نژاد در بخش دیگری از سخنانش، با اشاره به تجربه افغانستان و عراق هشدار داد که مداخله نظامی احتمالی غرب در مناقشه لیبی اوضاع این کشور را وخیم تر خواهد کرد.
او گفت: "امیدوارم که دولت های اروپایی و آمریکا در امور این منطقه دخالت نکنند و اجازه بدهند که مردم منطقه خود در مورد آینده شان تصمیم بگیرند".
رئیس جمهوری ایران همچنین اقدام معمر قذافی، رهبر لیبی در سرکوب مخالفان خود با توسل به نیروی نظامی را محکوم کرد.
---
---
03/13/2011 - Sunday - Tehran Iran Using Child Soldiers to supress Tehran Protests
Armed children as young as 14 are said to have been deployed alongside riot police
Iran's Islamic regime is using "child soldiers" to suppress anti-government demonstrations, a tactic that could breach international law forbidding the use of underage combatants, human rights activists have told the Observer.
The International Campaign for Human Rights in Iran says troops aged between 14 and 16 have been armed with batons, clubs and air guns and ordered to attack demonstrators who have tried to gather in Tehran. The youths . apparently recruited from rural areas . are being deployed in regular riot police roles and comprise up to one-third of the total force, according to witnesses.
One middle-aged woman, who said she was attacked by the youths, reported that some were as young as 12 and were possibly prepubescent. They had rural accents, which indicated they had been brought in from villages far from Tehran, she said.
Some told her they had been attracted by the promise of chelo kebab dinners, one of Iran's national dishes.
"It's really a violation of international law. It's no different than child soldiers, which is the custom in many zones of conflict," said Hadi Ghaemi, the campaign's executive director. "They are being recruited into being part of the conflict and armed for it."
The UN convention on the rights of the child requires states to take "all feasible measures to ensure that persons who have not attained the age of 15 years do not take a direct part in hostilities".
The allegation comes amid efforts by Iran's opposition Green movement to revive the mass protests that challenged President Mahmoud Ahmadinejad's re-election in 2009, which opponents say was rigged. Drawing encouragement from the uprisings in Egypt and Tunisia, organisers have vowed to stage demonstrations every Tuesday.
Protesters who gathered on 1 March and a week later were met by a blanket security presence, which activists say refined the tactics used to crush the post-election revolt, when smaller detachments of youths were used informally by the hardline Basij militia.
Last Tuesday youthful riot squads formed along Valiasr Street, Tehran's central thoroughfare, and forced pedestrians to run an intimidating gauntlet. Protesters chanting anti-government slogans were attacked. Multiple arrests were reported.
"They are very keen to display violence. Teenage boys are notorious for that," said Ghaemi. "They are being used to ensure there is a good ratio of government forces to protesters and because the average policeman in Tehran could have some kind of family connection to the people they have to beat up. It's a classic tactic to bring people from outside, because they have no sense of sympathy for city dwellers."
The renewed clampdown coincides with concern over the whereabouts of the Green movement's nominal leaders, Mir Hossein Mousavi and Mehdi Karroubi. Both were apparently placed under house arrest last month and then reported to have been taken into detention, despite official denials. - Robert Tait is a senior correspondent for RFE/RL and a former Tehran correspondent for the Observer.
---
03/02/2011 - Wednesday - Paris Iran would "slaughter" people in revolt: defector
March 2, 2011 - Paris
PARIS (Reuters) . An Iranian diplomat who defected last month said on Tuesday that Iran's leaders would rather "slaughter" their own people than surrender power to any popular revolt inspired by uprisings across the Arab world.
Ahmed Maleki, who was vice consul of Iran's consulate in Milan before fleeing to Paris with his family last month, is the latest in a string of officials to defect from the Islamic state and join a year-old opposition group called the Green Wave.
He said in an interview that Iranians had been inspired by images of popular revolt in North Africa but faced a regime far more brutal than those of Egypt, Tunisia or even Libya.
"In the course of the past 32 years the sole objective of the regime has been to retain power," he told Reuters at a prestigious hotel in Paris, speaking through an interpreter.
"They are willing to ... resort to whatever measure, including slaughter and bloodshed to the extreme in order to retain power."
Two people were killed and dozens arrested on February 14 when thousands of opposition supporters in Tehran and other cities took to the streets in sympathy with uprisings that toppled the leaders of Egypt and Tunisia.
Iran's Islamist leaders, seeking to avoid a revival of mass rallies that erupted after 2009 elections, have warned that any illegal gatherings by the opposition would be confronted.
Maleki said many other Iranian diplomats and military officers shared his critical point of view on the Tehran government but were waiting for the right time to switch sides.
He said he had fought for his country for 77 months in the 1980-88 Iran-Iraq War.
Maleki joins a former Iranian consul to Norway, an air force officer and a general who have already defected to the Green Wave. It was founded in March 2010 by exiled Iranian businessman Amir Jahanchahi, who aims to disrupt Iran's vital energy sector to put pressure on Iranian leaders.
---
03/02/2011 - Wednesday - Tehran Iran opposition says 79 arrested in protests
TEHRAN (Reuters) . Iran's opposition said at least 79 people were arrested at protest rallies on Tuesday that the government denied had taken place at all.
Authorities have deployed large numbers of security forces to prevent any repeat of the massive unrest that followed hardline President Mahmoud Ahmadinejad's 2009 re-election, and on Wednesday state media made no mention of Tuesday's rallies.
Opposition websites said thousands of people demonstrated in Tehran and other cities to demand the release of "Green movement" leaders Mirhossein Mousavi and Mehdi Karoubi who they believe were taken from their homes last week and jailed.
Prosecutor-General Gholamhossein Mohseni-Ejei denied the arrests, saying both men were still in their homes but were being prevented from communicating with the outside world.
According to opposition website Sahamnews, at least 79 people were arrested on Tuesday. Sites said some 1,500 were arrested on February 14 during the Green movement's first rally in more than a year, which was called to show support for pro-democracy uprisings in North Africa.
The police said "dozens" of people were arrested on February 14, and a parliamentary committee set up to investigate the events said only small groups of trouble-makers turned up.
Talking of events on Tuesday, Tehran prosecutor Abbas Jafari Dolatabadi told reporters: "A limited number of people, influenced by anti-revolutionary groups, were intending to do something."
"No specific incident happened on Tuesday in Tehran," he said, according to the semi-official Fars news agency. Dolatabadi declined to give the number of arrests.
Despite the official line that there has been no significant resurgence of the Green movement, which the government considers to be a seditious plot guided by its Western foes, parliament has called for Mousavi and Karoubi to be tried and hanged.
Two people were shot dead on February 14, deaths that each side has blamed on the other.
The parliamentary report, issued on Wednesday, accused Mousavi and Karoubi of staging the February 14 rally at the encouragement of U.S., British and Israeli intelligence.
"Foreign intelligence services had contacts with the sedition leaders urging them to call for a rally in support of popular uprising in Egypt and Tunisia ... as a pretext to create tension in the country," said the report, according to the official IRNA news agency.
Opposition leaders deny such accusations.
Iranian government leaders have hailed uprisings in several Arab states as part of an "Islamic awakening" inspired by the 1979 revolution which ousted the Western-backed Shah.
Analysts outside Iran say the uprisings have been overwhelmingly secular, not religious, in nature.
The Iranian opposition took those pro-democracy protests as inspiration to stage its own first significant show of vitality since December 2009 street protests, which were crushed by the elite Revolutionary Guards.
Mousavi and Karoubi -- reformists who lost to Ahmadinejad in the June 2009 election -- were held in their homes, incommunicado, after they called for the rally. Authorities warned such "illegal" gatherings would not be tolerated.
Opposition website Kaleme said it believed Mousavi and Karoubi and their wives were secretly whisked from their homes last Thursday and taken to Heshmatiyeh prison in Tehran.
The authorities' reluctance to confirm their whereabouts shows the sensitivity of taking aggressive action against men who remain rallying points for opposition to Ahmadinejad
---
03/01/2011 - Tuesday - Tehran Iran: Security forces break up Tehran protests - 1 March 2011, Tehran
police have fired tear gas to disperse opposition supporters mounting protests in the capital Tehran.
A BBC correspondent in Tehran said large numbers of riot police and militia on motorcycles in the city centre broke up any crowds that formed.
The unrest comes a day after websites close to opposition leaders Mir Hossein Mousavi and Mehdi Karroubi said they had been jailed.
The government has denied this, saying the two men were at home.
The BBC's Mohsen Agsari in Tehran said by early evening the security forces appeared to have full control of the streets.
The Basiji militia were chanting victory slogans, he said.
Earlier, despite the presence of security forces in Tehran's main streets and squares, sporadic gatherings were held close to the main Azadi square, our correspondent said.
Demonstrators chanting "Ya Hossein, Mir Hossein" were immediately attacked by the police.
After night fell, demonstrators made random protests, using the cover of darkness to confuse the security forces, our correspondent adds. Police blocked the focal point of the demonstrations, Eskandari street, at both ends, sending bikers to disperse the protesters. Detention denial
Both Mr Mousavi and Mr Karroubi have called for demonstrations in Iran in the light of the recent uprisings in Tunisia and in Egypt. Earlier this month the two men, along with their wives, were detained in their respective homes in Tehran as protests were staged. Thousands of their supporters took to the streets of Tehran on 14 February, amid clashes with security forces which left two dead. On Monday one of Mr Karroubi's sons told the BBC Persian service he had been told his father had been "taken by security forces to an unspecified location".
The semi-official news agency Isna quoted state prosecutor Gholam Hossein Mohseni Ejehei on Monday as saying that Mr Mousavi and Mr Karroubi were not detained. The two men ran as opposition candidates in the disputed June 2009 presidential election. Mr Mousavi said he was the actual winner and President Mahmoud Ahmadinejad was only re-elected through a rigged vote. Hundreds of thousands of opposition supporters then took part in marches that were violently broken up by the security forces, including the Basij militia on motorcycles.
---
03/01/2011 - Tuesday - Tehran Iran Says Opposition Is .Internal Affair,. Rejects Criticism
By Laden Nasseri
(Updates with reports of clashes in third paragraph, U.K. urging opposition leaders. release in fourth.)
March 1 (Bloomberg) -- Iran rejected outside criticism of its handling of the opposition after reports that two prominent dissidents had been arrested.
These are internal affairs and no country has the right to interfere,. Ramin Mehmanparast, Foreign Ministry spokesman, told reporters in Tehran today in comments aired live by state television. He was replying to a question about the reported detention of Mir-Hossein Mousavi and Mehdi Karrubi.
Mehmanparast, who didn.t mention the whereabouts of the two opposition leaders, spoke before an anti-government march in Tehran. The rally led to clashes between marchers and security forces, the Associated Press cited the opposition as saying. Police used tear gas and batons to disperse protesters demanding the opposition leaders. release, with several people arrested, the AP reported, citing witnesses and opposition websites.
U.K. Foreign Secretary William Hague today urged the government to release Mousavi and Karrubi, according to an e- mailed statement from the Foreign Office in London. The German government is disturbed about reports of the treatment of opposition leaders and called on Iran to stop intimidation of political opponents, Steffen Seibert, chief spokesman for Chancellor Angela Merkel, said yesterday. U.S. Secretary of State Hillary Clinton also criticized Iran yesterday for pursuing policies of .tyranny at home..
Revival of Dissent
The crackdown on Karrubi and Mousavi, who challenged President Mahmoud Ahmadinejad in the June 2009 election, is aimed at stemming a revival of dissent in Iran as unrest roils the Middle East and North Africa. After Ahmadinejad.s re- election, Iran was rocked by the biggest protests seen in the country since the 1979 Islamic Revolution as the opposition alleged his victory was rigged.
Karrubi and Mousavi, who had been under house arrest since mid-February, were transferred to a Tehran prison, Mousavi.s website, Kaleme, said yesterday. The men and their wives were arrested and taken to Heshmatiyeh prison, according to Kaleme, which cited their neighbors. Reports of their arrest were rejected by an unidentified judicial official cited by the state-run Fars news agency.
Mehmanparast said the West must .hear and respect the voice of the majority of Iranians,. who support the government and its policies, and not .divert the attention to a few people in the streets..
"God is great" and "Death to the dictator" were chanted from some rooftops in northern Tehran yesterday at about 10 p.m. local time. The slogans were also shouted from rooftops nightly by opposition supporters during the 2009 post-election rallies.
Protests that began after over the election have expanded to include criticism of the political system and government policies. Rallies resumed on Feb. 14 with Karrubi and Mousavi calling for a march in solidarity with demonstrators in other countries in the region following the ouster of Tunisian President Zine El Abidine Ben Ali and Egyptian President Hosni Mubarak.
03/01/2011 - Tuesday - Tehran برگزاری تظاهرات اعتراضی در تهران و چند شهر دیگر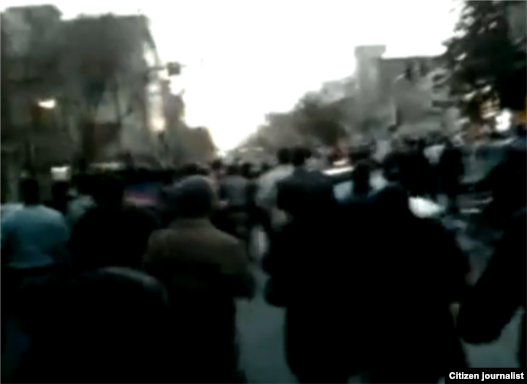 ۱۳۸۹/۱۲/۱۱
در پی فراخوان شورای هماهنگی راه سبز امید، روز سه‌شنبه تهران و چند شهر دیگر ایران از جمله شیراز، مشهد، اصفهان و تبریز شاهد تظاهرات گسترده مخالفان بود که در شعارهای خود از جمله خواستار آزادی میرحسین موسوی و مهدی کروبی شدند. بر اساس گزارش‌ها رسیده ده‌ها نفر در تظاهرات روز سه‌شنبه در ایران بازداشت شده‌اند.

بر اساس گزارش‌های رسیده از ایران این تظاهرات حتی از تظاهرات روز ۲۵ بهمن ماه هم گسترده‌تر بوده است.

شورای هماهنگی راه سبز امید، در اعتراض به حبس خانگی و سپس بازداشت میرحسین موسوی و مهدی کروبی، دو تن از رهبران مخالفان و همسرانشان، از مردم ایران خواسته‌ بود، در روزهای سه‌شنبه اسفند ماه سال جاری دست به تظاهرات بزنند.

روز دوشنبه و در آستانه برگزاری تظاهرات روز ۱۰ اسفند ماه گزارش‌هایی درباره انتقال میرحسین موسوی، مهدی کروبی و همسرانشان به زندان حشمتیه تهران منتشر شده بود که واکنش تند گروه‌ها و شخصیت‌های منتقد جمهوری اسلامی را به دنبال داشت.

در این میان تظاهرات روز سه‌شنبه در حالی برگزار شد که سخنگوی قوه قضائیه و دادستان کل جمهوری اسلامی نسبت به برگزاری هرگونه تجمع در روز سه‌شنبه هشدار داده و نیروهای امنیتی حضور گسترده‌ای در شهر‌های بزرگ و به ویژه تهران داشتند.

به گفته شاهدان عینی معترضان در این روز از جمله در میدان فردوسی، خیابان انقلاب، چهارراه ولیعصر و تقاطع خیابان آزادی با خیابان‌های‌‌ نواب و بهبودی در تهران تجمع کرده و شعارهایی مانند «یاحسین، میرحسین» و «مرگ بر دیکتاتور» سر می‌دادند.

همچنین گزارش‌هایی نیز از درگیری میان تظاهرکنندگان و نیروهای بسیجی و لباس‌شخصی در حد فاصل چهار راه ولیعصر و میدان ولیعصر منتشر شده است.

برخی گزارش‌های دیگر و گفته‌های شاهدان عینی نیز حاکی از آن است که سایر نقاط شهر تهران مانند میدان ونک، میدان صادقیه و خیابان اسکندری نیز در روز سه‌شنبه شاهد تجمع‌ها و تظاهرات معترضان بوده است.

شاهدان عینی همچنین از پرتاب گاز اشک‌آور توسط نیروهای امنیتی خبر داده و گفته‌اند در مناطق مرکزی شهر از جمله میدان انقلاب صدای تیراندازی شنیده شده است.

با این همه تاکنون خبری درباره شمار مجروحان احتمالی تظاهرات روز سه‌شنبه منتشر نشده است.

با این حال سایت اینترنتی سحام نیوز از بازداشت دست‌کم ۵۰ نفر در تهران و دست‌کم ۱۰ نفر در مشهد در جریان تظاهرات روز سه‌شنبه خبر داده است. گزارش‌های تایید نشده دیگر از بازداشت شمار زیادی از تظاهرکنندگان در شیراز حکایت دارد.

تظاهرات روز سه‌شنبه علاوه بر تهران در چند شهر بزرگ دیگر از جمله شیراز، مشهد، اصفهان و تبریز نیز برگزار شده و گزارش‌هایی نیز درباره برگزاری تجمع‌های اعتراض‌آمیز در برخی شهرهای کوچک مانند سمنان و اسلام‌شهر در اطراف تهران هم منتشر شده است.

تصاویر دریافتی از شیراز نمایانگر حضور پرتعداد معترضان در خیابان‌های این شهر است که شمار آنها هزاران نفر گزارش شده است.

یک شاهد عینی در گفت و گو با رادیو فردا شمار جمعیت تظاهرکننده در خیابان‌های مرکزی شیراز را «بسیار زیاد» و به مراتب بیشتر از شمار تظاهرکنندگان در روز ۲۵ بهمن و اول اسفند اعلام کرده است.

تظاهرکنندگان در شیراز از جمله شعار می‌دادند: «مبارک بن‌علی، نوبت سید‌علی».

همچنین تصاویر منتشر شده در سایت‌های اینترنتی از حضور پرشمار تظاهرکنندگان در شهرهای مشهد و اصفهان حکایت می‌کند.

به گفته یک شاهد عینی در مشهد، ‌خیابان راهنمایی این شهر عصر روز سه‌شنبه شاهد حضور انبوه تظاهرکنندگان بود که واکنش نیروهای امنیتی و لباس شخصی را به دنبال داشت.

به گفته این شاهد عینی شمار زنان و دختران دانشجو شرکت کننده در تظاهرات روز سه‌شنبه در مشهد به مراتب بیشتر و با انگیزه‌تر از تظاهرات روز ۲۵ بهمن و یکم اسفند ماه بوده است.

همزمان سایت‌ اینترنتی سحام‌نیوز، از برگزاری تجمعات گسترده‌ اعتراض‌آمیز در روز سه‌شنبه در اسلام‌شهر، از شهرهای حاشیه‌ای و فقیرنشین اطراف تهران، خبر داده است.

بر اساس این گزارش مردم در جمع‌های پراکنده در این شهر شعارهای «مرگ بر دیکتاتور» و «موسوی و کروبی آزاد باید گردند» سر دادند و به گفته شاهدان عینی شماری از مردم و معترضان در اسلام‌شهر نیز بازداشت شده‌اند.

همچنین گزارش‌ها حاکی از آن است که صدای تیراندازی نیز در اطراف دانشگاه آزاد اسلامشهر شنیده شده است.

از سوی دیگر گزارش‌های دریافتی از ایران حاکی از آن است که درگیری‌ها و تجمع‌های روز سه‌شنبه حتی پس از تاریک شدن هوا نیز ادامه یافته و ماموران امنیتی به ویژه در نقاط مرکزی تهران با شلیک گاز اشک آور و ضرب و شتم، بر میزان خشونت خود در سرکوب معترضان افزوده‌اند.

همچنین سه‌شنبه شب پس از پایان یافتن اعتراض‌های خیابانی در تهران در چند نقطه از تهران صدای «الله‌اکبر» و «مرگ بر دیکتاتور» معترضان از پشت بام‌ها شنیده شده است.
---
02/15/2011 - Tuesday - Tehran Iran opposition Green Movement evolves under pressure
By Bozorgmehr Sharafedin - BBC Persian
It is clear that Monday's demonstrations in Iran came as a big surprise to both the government and the leaders of the opposition Green Movement. The fact that people were willing to come out onto the streets in defiance of the security forces showed just how much anger there still was against the government among some sections of the population. It also underlined the emptiness of the government's claims that the Green Movement was a spent force. Since the brutal suppression of the protests triggered by the disputed June 2009 presidential election, the authorities have maintained the line that there is no powerful opposition movement in Iran. As Monday's protests were unfolding across the country - and opposition websites were buzzing with news from the streets - state media were continuing to report that all was quiet. Crackdown But as Iranian MPs discussed the events in parliament on Tuesday, it was clear from the angry tone of the debate that they were seriously worried by what happened.
For the first time, the Majlis heard calls not just for the prosecution of the two main opposition leaders - Mir Hossein Mousavi and Mehdi Karroubi - but even for them to be executed. It is hard to estimate exactly how many people joined in the demonstrations in Tehran and other cities on Monday. One reason is that the security forces did all they could to prevent people gathering in one place. In an echo of the protests on Tahrir (Liberation) Square in Cairo, the demonstrators in Tehran headed for the capital's Azadi (Freedom) Square. But security forces blocked many of the main roads leading into the city centre, meaning that the protests were dispersed. This is exactly the same strategy which the authorities have been using against the opposition as a whole over the past two years. By keeping the leaders of the Green Movement under virtual house arrest, and detaining many others, the authorities have prevented its mainly middle-class supporters from forming a broader network of support across different levels of society in Iran. They have also cracked down on trade union activists, students and women's rights groups in attempt to ensure that none of these could join forces and begin to turn the tide. Changing tactics Like their counterparts in Cairo and Tunis, the opposition supporters who have been out on the streets of Tehran this week are overwhelmingly members of the Facebook generation. <!=============== List of Killed and Detained in Iran Since June 12, 2009 ===============>


---
6/29/2009 - Monday - Guardian News and Media - Iran 2009 Election - Faces of Dead and Detained
* Lets put a face to each of those hundreds - possibly thousands - killed or arrested since the Iranian election. Since the disputed election on June 12 2009, the iranian authorities have detained hundreds of opposition supporters, journalists and protesters. There have also been a number of deaths. The interactive table shows the name & picture (if available) of the dead and detained. Guardian News is asking help from Iranians and journalists who have information on the dead or detained or have picture of those already listed.
** Visit IranHumanRights.org for List of Killed and Detailed Since June 12, 2009.
*** Visit IranianChurch.org for List of Killed and Imprisoned Iranian Christians since 1979. <!=======================================================================================>