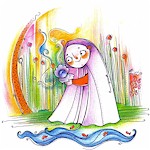 Morvarid - Pearl, the little girl behind the Veil
A children story on the merits of why little girls should hide behind the Veil, a ritual girls in the middle east go thru in early age so to be trained for adulthood. Morvaid (Pearl) is being trained to get used to wearing Veil at an early age.

Hassani - The Good and Loving Boy by Jila Ahmadi
An interesting sing-along Persian Children story which teaches Children value of helping around the house and being nice to others and be willing to forgive and forget those kids who come around.


The Wedding of Khaleh Sooskeh and Agha Moosheh By Ehterami
A famous traditional Persian story in Farsi for Children. In addition to the interesting story, this book introduces a variety of traditional costumes, slangs, architecture and food.


Atal Matal Tutuleh, Goveh Hasan Chee Joureh? by Azam Mehmani Zadeh
A collection of Traditional Farsi Stories, Children Songs, Games and Rhymes in Farsi. These stories and songs are very entertaining and yet educational - both the Persian Language and the culture.